Kolos Ltd. - Production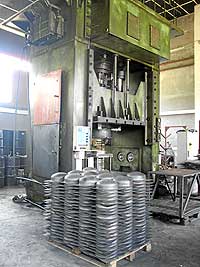 All the company's production range is a result of a complete, semi-automatic production cycle.
It includes several production modules, functioning as autonomous production units.
The fully automatic 640 ton hydraulic press and precision rolls supply the two basic production elements – the shells and the endplates. The press is programmed and equipped with different moulds for the different types of endplates required – standard or deep drawn.
Assembly and welding of the cylinders is completed by a semi-automatic welding line.
All cylinders and tanks have a welded information plate with the necessary technical data, the name of the company and the date of production.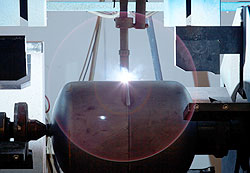 The ready product undergoes standard control system with hydraulic tests and defectoscopy of the seam-weld. After the tests the cylinders enter the completely automatic powder coating and annealing line.
Finally, the complete product undergoes a quality control and is stocked ready for dispatch.
More pictures about our production lines can be seen in our photo gallery.